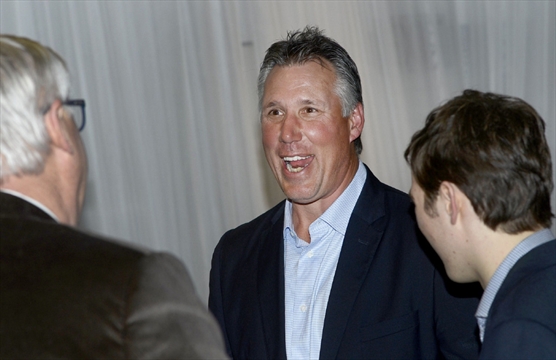 Productive career
News Services File Photo
Dave Andreychuk, centre, pictured at the 64th B'Nai Brith Hamilton Sports Celebrity Dinner honouring high school athletes and celebrating the world of sports, racked up some impressive numbers in a long NHL career.
The Hockey Hall of Fame announces its 2015 inductees on Monday.
Cue the controversy. People will argue the merits of various players, and those arguments usually revolve around statistics. Numbers are often cited by those who argue that 640-goal man Dave Andreychuk should be in the Hall of Fame.
It does seem unfair that the Hamilton native has so far been overlooked given his numbers in comparison to other Hall members. But he would be in a Hall of Achievement (or longevity) based on statistical benchmarks (500 goals, 3,000 hits in baseball, or various of the relatively new sports analytics).
So simplify things. Reserve halls of fame for those transcendent athletes — Bobby Orr, Michael Jordan, Wayne Gretzky … — who people paid to see. The obvious no-brainers. Even that would fuel arguments — the lifeblood of sports — so keep the halls in your own head and …
Put the rest in a Hall of Achievement based on statistical benchmarks, which is what the Ladies Professional Golf Association does for its Hall of Fame. Exceptions to the statistical benchmarks would only be considered in the case of an athlete who displayed obvious brilliance, but whose career was cut short by injury. Someone like Eric Lindros might get in via that avenue, though he may get into the Hockey Hall of Fame anyway. He was famous. Or infamous.
NHL draft thoughts
First overall NHL draft pick Connor McDavid is being called a "generational" type player. By my reckoning, there have been just a few such dominant players among No. 1 picks since the draft began in 1963 — Guy Lafleur (a shooting star who started slowly, dominated the league for six years and then faded), Denis Potvin, Mario Lemieux, Sidney Crosby. And of course Wayne Gretzky and Bobby Orr who were not drafted.
We'll see how McDavid does. By all accounts he should do well, and rare is the No. 1 pick who, even if they don't meet expectations, doesn't have a decent pro career. Greg Joly, Alexandre Daigle and the late Doug Wickenheiser come to mind as flops; though closer inspection reveals Joly as a player was rushed into the NHL on a woeful team (the expansion Washington Capitals), Wickenheiser was someone who did score 20-plus goals twice and fashioned himself into a strong defensive forward, and even Daigle had two 20-goal seasons.
Berkobits
Tough first week for the CFL — four quarterbacks including three starters injured and Toronto's Ricky Ray is already out, though his backup Trevor Harris is a keeper based on Game 1's performance against Edmonton. … Stephanie Earl, Waterloo crossfit athlete and a strength and conditioning coach at the University of Waterloo, made Sports Illustrated's #trainingwithSI feature "celebrating everyday athletes" in its June 22 issue. It's the one with the cover story on the Chicago Blackhawks winning the Stanley Cup.
Source by therecord